Livorsi 1025 Trim Tab
FREES UP TO 6" OF TRANSOM SPACE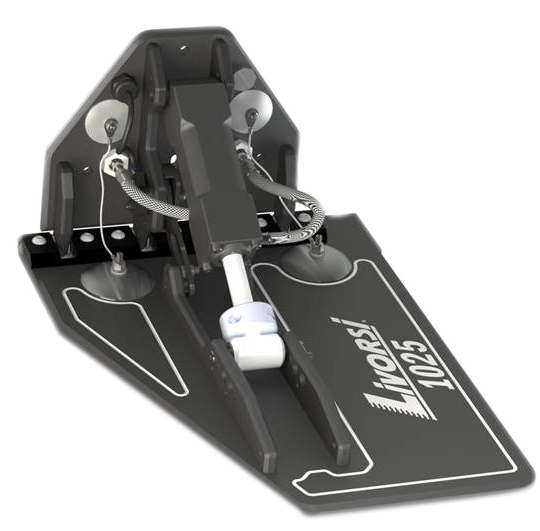 1025 Tab with 10" Transom Plate Above
Features:
Frees up to 6" of transom space for triples & quads
Moving tabs outward 3" on each side allows maximum water cooling & minimum prop aeration
Allows greater motor separation for improved propeller bite during docking
2 versions to choose from 10" & 12" transom plates
Tabs are hard anodized billet aluminum to cast aluminum and painted
Standard equipment in Contender, Yellowfin, Blackwater, Deep Impact, Renegade, SeaVee, Military, & more
Please call Livorsi Marine at 847.752.2700 for more details.
Download our trim tab 1025 info sheet
Colors Available

Trim Tab Kits include:
Two billet tabs
Two pumps
Mounting hardware
Harnesses
Thru hull fittings
Stainless steel braided hoses are purchased separately. Four hoses are needed for one kit, two per cylinder.
Stainless Steel Braided Hoses
Inverted Flare Hose Ends

SAE J514 37° Flare Ends

| | |
| --- | --- |
| 30 inches | SSBH30IN-1 |
| 36 inches | SSBH36IN-1 |
| 48 inches | SSBH48IN-1 |
| 60 inches | SSBH60IN-1 |
| 72 inches | SSBH72IN-1 |
| 90 inches | SSBH90IN-1 |
| 19 feet | SSBH19FT-1 |
| 21 feet | SSBH21FT-1 |
| 26 feet | SSBH26FT-1 |

| | |
| --- | --- |
| 30 inches | SSBH30IN |
| 34 inches | SSBH34IN |
| 60 inches | SSBH60IN |
| 90 inches | SSBH90IN |
| 19 feet | SSBH19FT |
| 21 feet | SSBH21FT |
| 26 feet | SSBH26FT |
Standard Equipment in: