| | |
| --- | --- |
| Grayslake, Illinois | |
But, I would have to say that the most significant change came with the introduction of the GPS driven speedometer. Boating speeds were increasing due to the development of stepped bottom hulls and the advancements in engine technology. The need for a speedometer that could read accurate speed was a must. The liquid filled speedometer would no longer cut it, stepped bottom boats created aerations resulting in pointer bounce and inaccurate readings. Being one of the first to market this innovative product, Livorsi Marine was able to provide the precision instrument boaters and OEMs where looking for.
In 1997-98 I decided to go Offshore Racing to further grow the business and satisfy my need for speed. I teamed up with Jeff and Debbie Haylett and sponsored a 10 meter Fountain. The boat was an older un-stepped Fountain so other newer boats had an advantage. Jeff decided to revamp the boat by adding steps to the hull. It must of worked because we won our first 3 races right out of the box. Winning these 3 races gave Livorsi more press than ever before. But three quarters of the way thru the season we lost our hydraulic steering in a turn and flipped the boat. We were able to rebuild and finish the season, but my racing days were over.
Throughout the years many boat builders like Formula, Fountain, Donzi, Hustler, Nor-Tech, Cobalt, the US Navy, government and workboats had come to rely upon the products that LMI produced. We listen to manufacturers and customers to continue to provide and develop the quality products needed. R&D and testing never ends as we strive to make a better product than the competition. Each product endures rigorous testing under the most strenuous conditions. Substantial testing takes place off the Florida coast, Lake Michigan as well as in-house. Salt water is one of the most damaging elements in the marine environment and Livorsi makes sure its products can endure this type of condition.
In 2006 LMI was purchased by a publicly traded company, CompX International, Inc.. Custom Marine, Inc. (exhaust systems) had been purchased 6 months earlier to make up the marine division called CompX Marine. CompX International Inc. is made up of over 10 divisions worldwide that cater to companies like Harley Davidson, Snap-On and Tri-Mark just to name a few.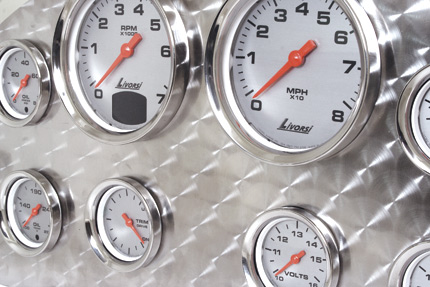 This was an opportunity to further grow the company and enter the digital age which includes CAN Bus gauges, electronic controls, LED position indicators and displays. Livorsi Marine was granted a DTS and SmartCraft® license by Mercury Marine to manufacture a Livorsi version of SmartCraft® gauges and DTS electronic controls. With the addition of these new products we have expanded to other marine markets such as pontoon boats, center consoles and the government sector. We also began to cater to the tow boat (ski boat) market with builders like Correct Craft, Nautique, Malibu, Centurion, Tigé and MB Sports. Today Livorsi has over 3500 parts which are sold worldwide, most of which are manufactured in-house.
Below is a list of new products that have come to market.
DTS and Platinum Series Controls
Trim Tabs for Government and Workboats
CAN Bus Displays
Livorsi Marine looks forward to proving customers with exceptional service and innovative products for years to come.