Livorsi 1650 & 1850 Mega Tabs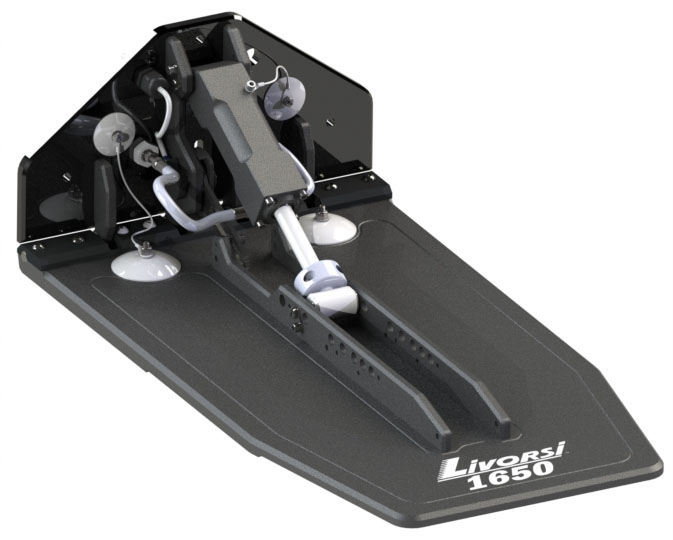 1650 Tab with 16.5" Transom Plate Above
Features:
Models are available for Catamaran Tunnel Tabs, Heavy Cruisers, Performance Boats, Workboats & Military Boats
Available with optional 4", 6", or 10" LED lights in white, blue, red, green or RGB
2 cylinder options
2 versions to choose from 16.5" & 18.5" transom plates
Tabs are Mil-Spec hard coat anodized to prevent corrosion
Please call Livorsi Marine at 847.752.2700 for more details.
Download our Mega Tab sheet for Part Numbers and More info
Download our 1100 Mega Tab sheet for more info
Colors Available

Mega Tab Kits include:
One Trim Tab
One Parker Pump
Mounting hardware
Stainless steel braided hoses are purchased separately. Four hoses are needed for one kit, two per cylinder.
Stainless Steel Braided Hoses
Inverted Flare Hose Ends

SAE J514 37° Flare Ends

| | |
| --- | --- |
| 30 inches | SSBH30IN-1 |
| 36 inches | SSBH36IN-1 |
| 48 inches | SSBH48IN-1 |
| 60 inches | SSBH60IN-1 |
| 72 inches | SSBH72IN-1 |
| 90 inches | SSBH90IN-1 |
| 19 feet | SSBH19FT-1 |
| 21 feet | SSBH21FT-1 |
| 26 feet | SSBH26FT-1 |

| | |
| --- | --- |
| 30 inches | SSBH30IN |
| 34 inches | SSBH34IN |
| 60 inches | SSBH60IN |
| 90 inches | SSBH90IN |
| 19 feet | SSBH19FT |
| 21 feet | SSBH21FT |
| 26 feet | SSBH26FT |
Standard Equipment in: